Searching for care for an elderly loved one can be stressful. Even worse, the industry is full of overwhelming, technical terms and acronyms like SNF, RCFE, Board and Care… How can you choose the right solution for your family? All you want is for Mom or Dad to be happy and safe, not to define the difference between Assisted Living and Nursing Home.
That's what we're here for. There are many categories of eldercare, and within each category, different homes offer different services. We've done the research. We know, not only what the levels of care are, but also what each home in Orange County can offer in terms of assistance for your loved one.
Here's a quick overview.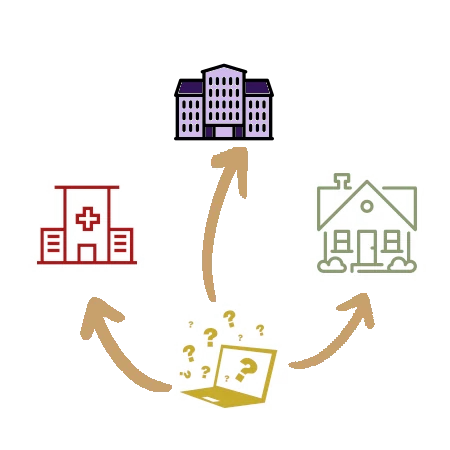 Nursing Home
You may hear doctors or case workers talking about "sniffs" and wonder if someone has the cold. Actually, this is the acronym SNF, which stands for Skilled Nursing Facility. More commonly known as a Nursing Home, a SNF offers the highest level of care. They have nurses on staff and can provide medical assistance. Medicare and Medi-Cal can help pay for a stay in a nursing home, which is typically shorter term.
Read More About Nursing Homes.
Assisted Living
In an Assisted Living facility, there is usually very little medical care provided. In many states (including California), staff at Assisted Living Facilities cannot legally provide such care. They focus more on helping seniors accomplish the Activities of Daily Living, such as dressing and grooming, hygiene, mobility and providing meals.
There are both large and small facilities in this category, but more often than not "Assisted Living" refers to large apartment-like communities with hundreds of residents. There are numerous planned activities and outings and plenty of ways to feel like a part of the community.
Read More About Assisted Living.
Board & Care
A Board & Care home typically offers around the same level of care as Assisted Living but in a smaller, cozier environment. Also known as Residential Care Facilities for the Elderly (RCFEs), these are usually remodeled private homes in neighborhoods that can house around 6 senior residents. This results in a more family-like atmosphere and a better caregiver to resident ratio. With a smaller pool of residents, Board & Care homes might have fewer planned activities, but they do their best to keep seniors entertained. They may also be able to offer more personalized care, such as preparing a favorite meal.
Memory Care
Most senior homes are qualified to care for the beginning stages of memory loss and confusion common to the aging process. Not all facilities offer Memory Care. Each home can decide if they want to pursue the additional training and licensing to qualify for a Dementia Waiver, which qualifies a home and its staff to handle more advanced memory problems. These homes follow certain security standards to prevent wandering and employ caregivers who are trained to deal with the various forms of Dementia and Alzheimer's Disease.
Respite and Hospice
Maybe you take care of your loved one in your home most of the time but need a break. Many senior care facilities offer Respite stays. These may last from a few weeks to a couple months, after which the senior returns to their normal residence.
Hospice can be a very distressing time for a family. The patient has only a short time left to live and often requires extensive care to keep them out of pain. Facilities must have a waiver to provide hospice.
Not all homes offer Respite or Hospice services. Call us at (949) 660-8814 to find out which ones do.
Bonus Levels: Independent Living and Continuing Care
What if you're aging but don't need help bathing or preparing meals? You just want to live in a community of your senior peers, without college students who party all night or landscaping duties. Independent Living may be right for you. In these communities, seniors live by their own means with very little help from staff.
This term is often used in the context of Continuing Care. A Continuing Care Community offers all of the above, from bottom to top. You may start out in the Independent Living level. Then, as you age and require more care, you may move up to Assisted Living, where caregivers assist with daily activities. Later on, you may need Memory Care or even Skilled Nursing. You can receive all of these services in different areas of one facility. Often times, different care can be purchased a la carte, or one service at a time.
It can be convenient to age in place and tempting to have all care levels bundled into one facility. However, this convenience comes at a cost. Continuing Care can be very expensive.
Hopefully, this article helps you understand the various levels of care in the senior living industry. If you have any questions or would like help finding the community in Orange County that best fits your needs, call us at (949) 660-8814. We can help you find the right home at no charge to you.